Since the pneumonia outbreak caused by the novel coronavirus in China in late December 2019, e-commerce platforms in the country have taken active moves to help the country tackle the crisis, working hard to ensure timely supply of items for daily use as well as much needed medical supplies.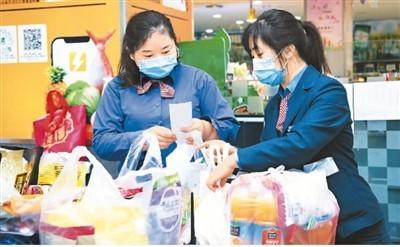 On Jan.30, a staff member of a supermarket in Wuxing district, Huzhou in east China's Zhejiang province, helps a woman buy goods for daily use. Wuxing district recently launched online supermarkets on an e-commerce platform of the district and provides home delivery services for citizens. (Photo by Xu Yu/xinhuanet.com)
On Jan.25, 2020, many Chinese e-commerce platforms, including Alibaba and JD.com, issued a joint proposal to resolutely perform responsibilities as well as making all-out efforts to guarantee the provision of emergency supplies.
Many e-commerce platforms and express companies in China have run as usual during this year's Spring Festival holiday, thanks to which people in the country have been able to get goods and materials for daily use without leaving home.
A Xin, an English teacher in Wu'an in north China's Hebei province, had an unforgettable Spring Festival this year. Since communities around the country have all been warning people about the epidemic and urging them to stay at home to avoid infection during this extended holiday period, A Xin has also followed the advice.
However, on Jan.27, the third day of the lunar Chinese year, she was a little bored with her life at home. She wanted to go shopping at a supermarket and take a walk outside. A Xin finally gave up on the idea of going out as she was very concerned about the epidemic situation.
Instead, she ordered the goods she needed on the JD APP. Around 4 p.m., the products A Xin bought via her mobile phone, including rice, cooking oil, and fresh vegetables were all delivered to her home.
Since the outbreak of the epidemic, face masks have been in hyper-demand across the country. As people find it merely impossible to get face masks at offline drugstores, convenience stores, or supermarkets, some greedy online stores began to jack up the prices of their remaining face mask inventories. Face masks that used to cost 1 or 2 yuan (about $0.14) each were being sold for 10 yuan or more.
Operators of relevant platforms immediately took actions to strengthen management and monitor prices of face masks and relevant goods. According to a report released by Alibaba on Feb.4, the e-commerce giant had intercepted and deleted web links of 570,000 questionable face masks and permanently removed 15 online stores suspected of selling face masks with quality issues, five of which being have been reported to law enforcement agencies.
Besides sending notices about banning face mask price hikes to all shop owners selling face masks on its e-commerce platforms, Alibaba has contacted face mask factories in nearly 60 regions of the country, asking which to resume production for the emergency and speed up production of medical supplies.
Pintduoduo, a Groupon website in China, also carried out real-time supervision of prices of popular products during the epidemic like face masks, disinfectant and thermometers, removing relevant products that were being sold at unreasonably high prices.
In addition, in an effort to ensure consumers buy relevant commodities at low prices, Pinduoduo has launched dedicated sections for products concerning prevention and control of the novel coronavirus, and have furthermore provided more than 10 billion yuan subsidies for relevant products.
A man surnamed Wang, who works in Beijing, checks e-commerce apps on his mobile phone every day to see whether face masks are available. Although there are shortages of some commodities in certain regions, Wang bought the products he wanted, including face masks and hand sanitizer.
"Sometimes I find that certain products are only available for Wuhan, but I think it's understandable. I bought some products for my friends in Wuhan," said Wang.
Since the evening of Feb.2, a poster about the launch of a "green channel" on Cainiao Network, a logistics arm of Alibaba, has been forwarded frequently by netizens on social media platforms. Cainiao Network launched the channel to provide transportation services pertaining to global relief supplies aimed at fighting the epidemic in China free of charge.
Prior to that, Alibaba announced the establishment of a dedicated fund of 1 billion yuan designated for realizing supply of medical materials on Jan.25 and started activities to search relevant medical resources for the battle against the crisis around the world.
The company has purchased a great number of key supplies, including face masks, protective clothing, and safety goggles from more than 10 countries, and delivered them to dedicated hospitals treating patients infected with the novel coronavirus in Hubei province.
JD.com has also started to transport emergency medicine for local pharmaceutical companies in Hubei since Jan.21, and officially opened free channels for transportation of relief supplies from various parts of the country to Wuhan.
By Feb.4, JD.com has delivered more than 1,300 tonnes of supplies for prevention and control of the epidemic as well as emergency supplies to Wuhan and its neighboring areas for daily use.
自2019年12月下旬新型冠状病毒在中国引发肺炎爆发以来,国内电子商务平台积极帮助国家应对危机,努力确保及时供应日常生活用品和急需的医疗用品。
在2020年1月25日,包括阿里巴巴和京东在内的许多中国电商平台联合发布了一份提案,坚决履行责任,并尽最大努力保证应急供应。

今年春节假期期间,国内许多电商平台和快递公司照常运营,因为人们不用出门就能买到日常所需的商品和材料。

今年春节,河北武安的英语老师阿欣(音译)度过了一个难忘的春节。由于全国各地的社区都在提醒人们注意这种传染病,并敦促他们在长假期间呆在家里避免感染,阿鑫也听从了这些建议。

然而,1月27日,也就是农历年的第三天,她有点厌倦了在家的生活。她想去超市买东西,然后出去散散步。阿新因为担心疫情,最终放弃了外出的念头。

相反,她在京东APP上订购了自己需要的商品。在美国,阿欣通过手机购买的大米、食用油和新鲜蔬菜都送到了家里。

自疫情爆发以来,口罩在全国各地供不应求。当人们发现在线下药店、便利店或超市买不到口罩时,一些贪婪的网上商店开始哄抬剩余口罩库存的价格。过去每只售价1元或2元(约0.14美元)的口罩,现在售价在10元以上。

相关平台运营商立即采取行动,加强口罩及相关商品的管理和价格监控。根据阿里巴巴2月4日发布的一份报告,这家电子商务巨头截获并删除了57万个有问题口罩的网络链接,并永久删除了15家涉嫌销售有质量问题口罩的网店,其中5家已向执法部门举报。

除了向所有在其电商平台上销售口罩的商家发出关于禁止口罩涨价的通知外,阿里巴巴还联系了全国近60个地区的口罩工厂,询问哪些工厂需要在紧急情况下恢复生产,哪些工厂需要加快医疗用品的生产。

团购网站pint朵朵还在疫情期间对口罩、消毒剂和体温计等热门产品的价格进行了实时监控,删除了相关产品的不合理高价销售。

此外,为了确保消费者能以较低的价格购买到相关商品,拼多多推出了新型冠状病毒防控产品专区,并为相关产品提供了100多亿元的补贴。

在北京工作的王姓男子每天都在手机上查看电子商务应用程序,看看是否有口罩。尽管某些地区的一些商品出现了短缺,但王还是购买了他想要的产品,包括口罩和洗手液。

"有时候我发现某些产品只在武汉有,但我觉得这是可以理解的。我给武汉的朋友们买了些东西。"

自2月2日晚起,阿里巴巴旗下物流平台菜鸟网推出"绿色通道"的海报在社交媒体平台上频频被网友转发。菜鸟网开通了免费提供全球救援物资运输服务的通道,旨在抗击中国的疫情。

此前,阿里巴巴于1月25日宣布成立10亿元专项资金,用于实现医疗物资供应,并开始在全球范围内搜寻相关医疗资源,以应对危机。

该公司从10多个国家采购了大量的关键用品,包括口罩、防护服和护目镜,并将它们送到湖北省专门治疗新型冠状病毒感染者的医院。

自1月21日起,京东也开始为湖北当地制药公司运送应急药品,并正式开通了从全国各地向武汉运送救援物资的免费通道。
截至2月4日,京东已向武汉及其周边地区运送了1300多吨防控物资和应急物资。